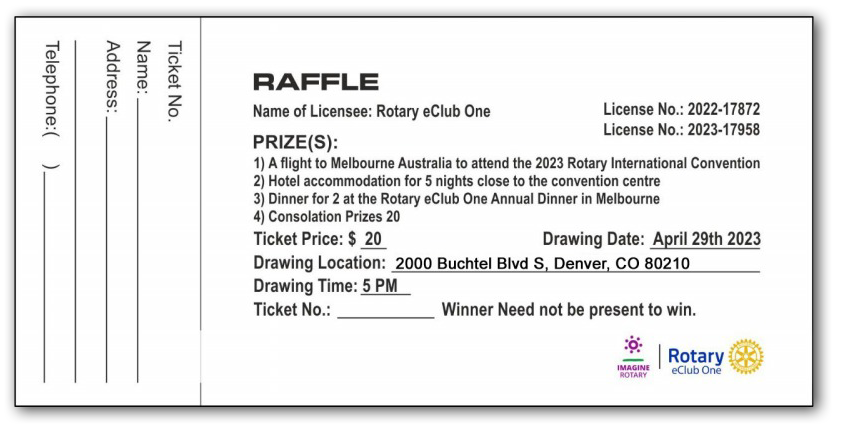 What is Rotary eClub One's Raffle all about?
It's about service projects, we are working around the world to create hope and provide opportunities.
For just US$20 you can play a part in helping to improve lives and create a better world.
What's in it for you?
Winning 1st prize will give you a flight to Melbourne Australia and registration to attend the Rotary International Convention
2nd prize will pay for your hotel room close to the convention centre from 26th-31st May.
3rd prize is 2 tickets for the Rotary eClub One Annual Dinner at the Stamford Plaza Hotel.
20 Consolation prizes also to be won.
Any questions?
Click here for FAQ
Click here to buy your Raffle Tickets
Rotary eClub One, Annual Dinner
Rotary eClub One is the first eclub of Rotary International. We the Rotarians of Rotary eClub One are from 19 countries and are celebrating our 22nd year. Rotary eClub One's annual dinner is a prestigious event. You get to know about our service projects, have fellowship with our eClub One members and a chance to hear one of the Rotary International's Leaders, while enjoying a lavish spread of local cuisine with drinks.
Special Guest Speaker PDG Jennifer Scott, Chair of 2024 Rotary International convention in Singapore
Special Guest DG 'Buchi Anikpezie.
(It is first time in the history of Rotary International that a current DG is from an eclub. Our own district 5450 current DG 'Buchi Anikpezie is a member of Rotary eClub One.)
FAQ: WhatsApp BOT -
wa.me/85298132324
Date & Time of Dinner 29th May 23 6.30 pm Venue of Dinner Stamford Plaza Hotel, Melbourne
Any questions?
Click here to buy your Annual Dinner Tickets
President's Writing – March
This month Rotarians will observe and shine the spotlight on RI's theme - Water and Sanitation
Clean water, sanitation, and hygiene education are basic necessities for a healthy environment and a productive life. When people have access to clean water and sanitation, waterborne diseases decrease, children stay healthier and attend school more regularly, and mothers can spend less time carrying water and more time helping their families.
In the past the club has participated in many service projects in that very category. Here are two of many that the club sponsored
E. Club Global Grant -- Water, Sanitation and Hygiene Covid19 Relief Project for Kwara State, Nigeria
| | |
| --- | --- |
| Description: | Provide boreholes and sanitary and hygiene facilities in 8 poor communities in Nigeria that will enable them to obtain clean, disease-free water for their drinking, cooking, cleaning, and general hygiene. |
| Location: | Nigeria, Kwara State |
Toilet Block at the St. Fathima and Bore Well Project – Remote Village of Kumarampatty
Another eclubone sponsored project was the opening of new Toilet Block at the St. Fathima Primary School, Athikaripatty Village Tiruchirappalli District. Tamil Nadu State – India. This installation of toilets will benefit sixty (60) students and three Teachers. This toilet block was part of a wider Bore well project in a remote Village of Kumarampatty.
We would like to continue to get involved in service projects in this particular area of focus, more specifically during the month of March. Projects like these have great impact, they are community based and can change the lives of many. There is so much more we can do.
Recently I read a post, which included comments from Erica Gwynn, Rotary's Area of Focus Manager for Water and Sanitation Hygiene (WASH) 2017, She was asked
What is the unique perspective Rotary members bring to global WASH projects?
Erica: Rotarians bring a unique perspective to the project that non-government organizations cannot. Rotarians have relationships with local leaders, and they know the needs and capacity of the community. Understanding the local culture, water sources and availability, and community resources are critical to the success of the project.
Rotarians are key to the design, planning and forecasting. The more we see local Rotarians' involvement, the greater chance for the grant being approved.
Erica could not have said it better. Now let's raise some funds through our Annual Raffle, so that we can deliver and implement service projects that will make the world a better place for all.
Regards
Patricia Mourillon
President
Rotary eClub One